Projects
We are committed to meticulously managing every project we work on.
Our solar PV Ground Mount and Rooftop kits, and customised Ground Mount and Carport systems are designed to suit even the most challenging site conditions.
Below are a selection of the great projects we completed.
Featured project
Carport solar at La Trobe University
Government Business Enterprise
|
Victoria, Australia - 2019
In 2019, to edge the university closer to achieving its ambitious goal of net zero carbon, it issued a tender to derive 720kWp of energy entirely from carport solar at its Albury-Wodonga and Bendigo campuses. The project was delivered in 5 weeks; on time and within budget. The carport structures were designed by S-Rack in Sydney and manufactured in Bendigo.
| | |
| --- | --- |
| System | CR2 |
| Power Output | 720kW |
| System size | 10 solar carport shade structures |
Roseworthy solar project at University of Adelaide
Government Business Enterprise
|
South Australia - 2019
The Roseworthy Solar and Energy Storage Project will reduce the University's peak electricity demand, reduce energy costs and increase the resilience of energy supply to the Roseworthy campus. The project was built to optimal design allowing flexible installation to follow sloping ground conditions.
| | |
| --- | --- |
| System | Sigma S1 Steel |
| Power Output | 1.2mW |
| System size | 3200 solar panels |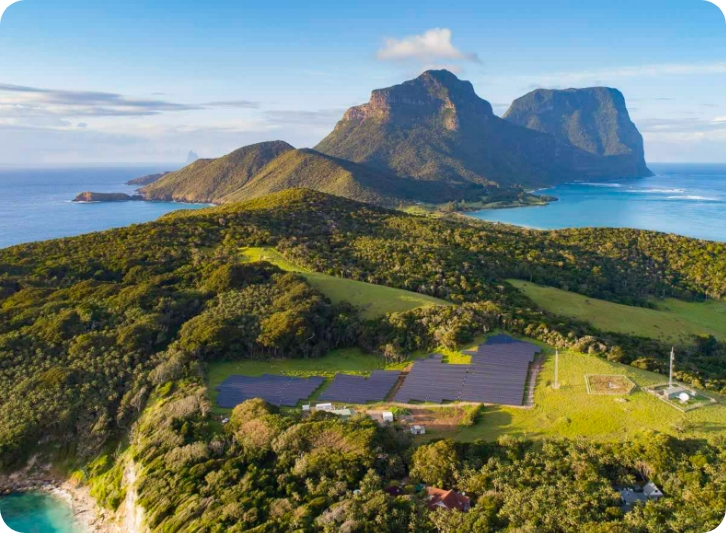 Lord Howe Island Solar Farm
Government Business Enterprise
|
Lord Howe Island -
The Hybrid Renewable Energy Project set out to reduce Lord Howe Island's reliance on Diesel power generation by at least 67%, thus reducing fuel costs and the reliance on fossil fuels. We designed it with the flexibility to cope with significant sloping of the ground at 18 degrees, to suit varying soil conditions from soft sand to rock and to resist high atmospheric corrosion.
| | |
| --- | --- |
| System | Sigma S1 Aluminium |
| Power Output | 1.3mW |
| System size | 3240 solar panels |
The River Room's rooftop solar
Business
|
WA, Australia - 2019
The River Room is a premiere wedding and functions establishment overlooking the Swan River in Nedlands, Perth, Western Australia. This installation consists of 34x Trina Solar Vertex S 390W with Fronius Symo inverter. SMC Energy's installation team have installed the S-Rack Flush mount system for a penetrative corrugated roof sheeting running the rails perpendicular to the purlins that are underneath. This enables the panels to be placed in portrait along the rails and give the appearance of the panels being positioned in landscape along the roof.
| | |
| --- | --- |
| System | Flush mount |
| Power Output | 13.3kW |
| System size | 34 solar panels |
Kapuni Solar Farm
Business
|
Kapuni, New Zealand - 2022
Kapuni Solar Farm is located in South Taranaki and New Zealand's largest grid-connected solar power plant. The plant began exporting renewable electricity into the local network in May 2022 and can generate enough renewable electricity to power over 520 New Zealand homes. The mounting system with an additional ground clearance height allows for sheep to graze under the panels.
| | |
| --- | --- |
| System | Sigma S1 Steel |
| Power Output | 2.6 MW |
| System size | 5808 modules |
Onslow Solar Farm
Business
|
Onslow, WA - 2021
Onslow in Western Australia's Pilbara region has become the largest town in Australia to be powered by 100% renewable energy. The Onslow centralised solar farm is part of the second solar project stage and plays an important part in achieving this goal. For this customized system in Windzone D, a three-layer epoxy coating of the hot-dipped galvanized pile foundations was required.
| | |
| --- | --- |
| System | Sigma S1 Aluminum |
| Power Output | 1.1 MW |
| System size | 3022 modules |